Microsoft leapfrogged over Sony in the game of "slowly reveal small portions of your new console" last night at the Game Awards, giving us not only the official name of what we had been calling "Project Scarlett", but also a glimpse at the box itself. So that's the ballgame now: Xbox Series X vs. PlayStation 5, both coming our way in Holiday 2020. And since we've been talking about these things for a while now, we already have a fair amount of information about both.
What we don't know is still pretty crucial. We don't have complete stats or a complete launch lineup, and we don't have a release date or a price. Beyond that, here's what you should know so far about Microsoft's next-gen Xbox.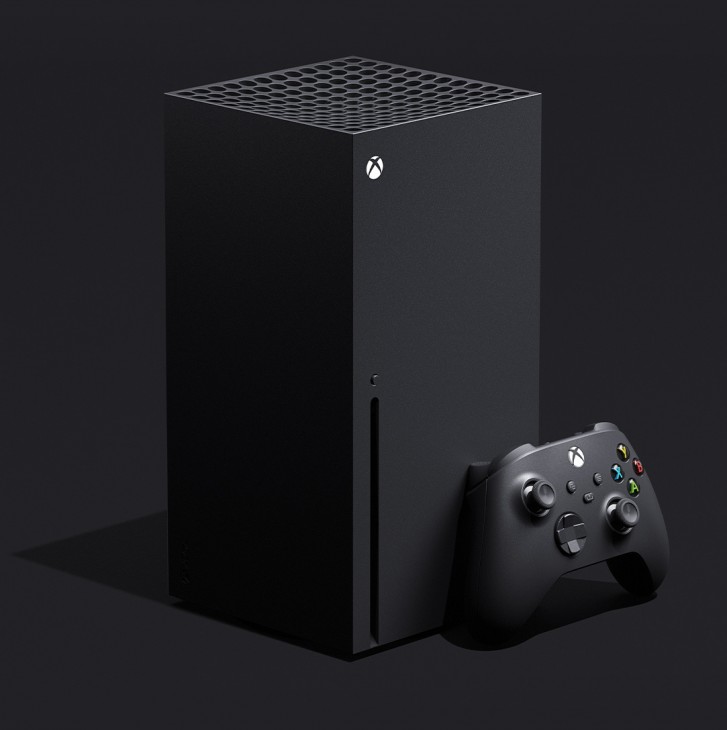 This is what it looks like: Sure, it's just a black rectangle, like most non-Nintendo video game consoles tend to be. But it's standing up, and not just in the "sure, you can stand it up" way that all consoles have been since the PS2. This thing is meant to stand up in an Amazon Echo sort of way, and you can expect it to cut a strikingly different silhouette in your living room. According to Microsoft it will also support horizontal orientation, but this seems more like vertical first, horizontal second.
The controller in the photo serves as scale: the base is just a hair bigger than the controller itself, and the console looks to be a little taller than two controllers. I'm not about to do a volumetric measurement based on controller estimations, but it's in the same general ballpark as the Xbox One X.
It's at least one console: Last night, at the Game Awards, Microsoft announced a single console, as evidenced by the picture of a single console. But rumors have been swirling around for more than a year that Microsoft is planning two consoles for the next generation: a standard-priced flagship console, which seems to be the Series X, and a less-powerful entry-level console. We didn't hear a whisper of the second console last night.
However, the naming convention would seem to reinforce the idea that this is meant to be a family of consoles, whether that's happening at launch or later into the hardware cycle. Both Microsoft and Sony broadened the concept of a console generation with the PS4 Pro and Xbox One X, and I'd expect this trend to continue whether we have two Xboxes at Holiday 2020 or not.
It will be powerful and fast: We don't have complete technical specifications for either the PlayStation 5 or the Xbox Series X yet, but we do have an increasingly long trail of breadcrumbs alongside some large-sounding numbers.
What we know: it will come with an NVMe SSD that Microsoft is promising will drastically reduce or eliminate load times in many situations, bolstered by GDDR6 RAM. In the past, Microsoft has said that Series X will be four times as powerful as its current flagship console, the Xbox One X. The company is targeting 4K, 60 FPS gameplay, but also throwing around the idea of 8K, 120 FPS gameplay with the assistance of software tricks. We're also getting hardware-accelerated ray-tracing, which refers to new lighting technology that can dramatically improve the look of a game.
There's a disc drive: It's right there on the side. I don't plan on using it, but you can.
It has at least two games, plus backwards compatibility: So far we have two games confirmed for the Xbox Series X: Halo Infinite and Hellblade: Senua's Saga. But while we're certainly going to get a few more graphical showcases for launch, that's only a small portion of the games that this console will be able to play. Backwards compatibility was a major focus of Microsoft's this generation, and that's continuing with the Series X: the company is promising "4 generations of backwards compatibility" going back to the original Xbox. We expect this will look something like the fairly extensive library of older titles the Xbox One boasts today.
Backwards compatibility will also extend to accessories, so you won't need entirely new controllers this time around. At this point I have accumulated…alot of Xbox One controllers.
Sony is also pursuing backwards compatibility with the PlayStation 5, something it currently accomplishes through the streaming service PlayStation Now.
It's meant to play well with others: For the past generation, Microsoft has been trying to open up the traditionally walled garden of the games console through programs like cross-save, cross-play and cross-buy with certain PC titles. That's continuing with Series X, which is supposed to offer a more seamless transition to a new generation than we've had with consoles in the past. That means not only backwards compatibility but also shared save data across devices.
The cloud is out there: The Xbox Series X, as the specifications should make clear, is designed to be a powerful local gaming machine. Unlike Google, Microsoft isn't trying to get rid of local computing quite yet. But Microsoft is also exploring game streaming through Project Xcloud, and Series X has some role to play in that. In an Xbox Wire post Xbox head Phil Spencer says that Series X is "built for the cloud" with "unique capabilities", but it's a bit unclear what that means.
Again, I would expect some more cloud-specific hardware at some ill-defined point in the future as well.
There's a new controller: There's always a new controller, naturally, but Series X will have a new controller. It looks mostly like the already-excellent Xbox One controller, but Microsoft says that it should fit into a wider range of people's hands. It's taking a page from Sony this time around by including a dedicated "share" button.
Source by Dave